Through years of putting interdisciplinary collaboration into practice, we've found that our graduates gain the competitive edge they need to be leaders in their fields. And according to Jamie Maslyn Larson, it's the complexity of the issues we address in urban areas, such as climate change and social injustice, that makes cross-disciplinary learning environments that much more important.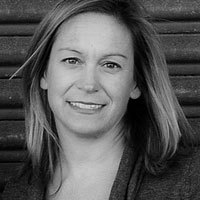 Jamie is the Principal in Charge of West 8's New York office.
Can you introduce us to West 8?
West 8 is an award-winning international office for urban design and landscape architecture founded in 1987. Over the last 20 years, West 8 has established itself as a leading design practice with an international team of 70 architects, urban designers, landscape architects and industrial engineers.

Our main office is based at the port of Rotterdam, and we have two offices in Belgium and New York. West 8's New York office was established in 2007 after winning an international design competition for the design of Governors Island Park, a 172-acre island in the middle of New York Harbor.

You describe West 8 as having an interdisciplinary approach, including urban master planning and landscape interventions. What do you mean by an interdisciplinary approach, and how important are interdisciplinary studies?

The majority of the international projects we have led or been involved in have included a host of local and international consultants and collaborators, all of whom have inspired, engaged and given us invaluable insight on each commission we undertake. The staff at West 8 has diverse skills: We are urban designers, architects, landscape architects, graphic designers and industrial designers and we leverage their enthusiasm, creativity and skills and those of our collaborators. Even across continents, our staff frequently collaborates on a single project, and we are sometimes embedded in the offices of our collaborators (or vice-versa). Our studio, which I would describe as having an egalitarian, interactive environment with a well-supported and organized structure, is perfectly suited for this process. This is what we mean by an interdisciplinary approach - it's not a typical organizational chart! But we love that, because it makes our work innovative and reflect all kinds of ideas and values.

Working as a collective enables us to balance internationally recognized designers and local experts, and enables us to develop design concepts and visions that tackle larger issues while still addressing the smallest design details, local culture and individual and community needs.

West 8 is involved with large-scale urban master planning and design. What are some environmental and social benefits that can come from the right urban planning?

West 8 has three decades of experience in large-scale urban interventions and regeneration. A successful master plan prescribes the transformation of the place—it balances the big dreams with the realities of feasible implementation, and the effects can be far reaching. From the individual level to the identity of a community or place to an area's wider ecological, social and infrastructure connections both now and in the future.

Oftentimes large-scale master planning projects take a long time to be realized, so one thing we always try to do early on is create immediate excitement and demonstrate visible progress as an outcome of a master plan. This creates momentum and excitement, and decreases construction fatigue. It can also serve to demonstrate or test an idea without costing a lot of money.

You've talked about West 8's approach to nature being a characteristically Dutch approach. How is nature treated in The Netherlands, and what are some reasons the rest of the world should adopt some of these methods and attitudes?

The Dutch have a traditional civil engineering approach to creating land, based on logic in regard to utility and necessity. This is out of necessity, as a third of the country is below sea level. As an American, I can appreciate the bold hand of the engineer, as seen in some of our great civil works. Yet in several ways the Dutch are different, and that is reflected in our work at West 8. We share the landscape tradition of the Dutch that confers identity and, therefore, understands the need for creating symbols in the production of landscape. By understanding the contemporary urban landscape as a primarily artificial environment, West 8 has been able to create groundbreaking public places places in a playful and engaging manner. It's not always what you'd expect —not exactly "nature" and not "engineering." Sometimes our work merely makes a platform for the community to make it theirs. Ultimately, it is people who make the space their own—and if our work brings a smile to their faces, then we are very pleased.

You describe a "second nature" of constructed landscapes that reinforces the culture to which they belong. What are some ways that landscape can be used to reinforce a cultural identity, and why is this important?

There is no future anticipated without history. West 8's idea is that innovation should be linked to our history; it should reflect history. We have found that the creation and realization of our landscape designs accumulates richness, meaning and beauty through inspiration, iteration of work and commitment. Design is not something you can import and impose on a site. What works in Rotterdam, Madrid or even Miami Beach will probably not work in New York. The greatest lesson we have learned in the course of our work is that every community, every project and every potential is different, and that design responses must be crafted from the particulars of place. The creation of a recognizable identity for a landscape separates everyday open space from world-class design.

What have been some of the most memorable and exciting projects you've been involved with? What made them so memorable?

All the projects I've led at West 8 come with a unique set of challenges and design parameters that require a hands-on approach, harness the collective energy of our design team and involve the ongoing collaboration with an extraordinary number of people; however, for me, what is really exciting is being a part of West 8's growing presence in North America. Since 2006, we've built three major parks/public spaces in three major cities. The Wave Decks on Toronto Waterfront, Phase 1 of Governors Island Park and Public Space in New York and Miami Beach SoundScape in Florida, and all three of these projects have won multiple national design awards.

We are now in construction on three other major public space projects: the revitalization of Toronto's Central Waterfront, Longwood Garden's Main Fountain Garden in Pennsylvania and "the Hills," which is Phase 2 of Governors Island. This year we start construction on six more of West 8's North American-based private and public space projects. We're very honored to have such exciting work and great clients, and we're making sure we grow at a pace that keeps focus on excellent design and client service.

Do you have any advice for designers, as far as working with other engineers? How can this be helpful for both parties?

When working in a cross-disciplinary environment, it is important that all parties work toward the project's ultimate ambition, rather than pursuing private agendas. While practitioners from different disciplines approach the design problem from a different angle (a truth that can catalyze creativity and generate new insight within a team), it helps if everyone is on the same page as to what exactly that problem is.

Creative (and often conflicting) dialogue can be a constructive tool in helping distill and debate the assets, constraints and opportunities to see what can be leveraged and enhanced to maximize the project's vision and benefits; however, of equal weighting is the ability to listen and learn from people and local culture. When working as a team it is important to align organizational capacity to capitalize on priorities that move a project forward to implementation.

What's the design climate like in America right now? Is it something that people value? Is there a lot of work? What are some other regions that seem to have a flourishing design industry at the moment?

There is a growing awareness among the public about the role public space plays in shaping our cities and society. Our work is almost exclusively with the public realm, and these landscapes—parks, boulevards, public gardens, riverfronts, streetscapes, and so on—are often welcomed by people but also have complex contexts. To reach consensus and to establish focus, we have to work with politicians, local citizens, financial experts and even legal experts. In the end a public space can look so simple, but it takes a patient, open process to get to the outcome.

North American city leaders understand the difference that great public space design has made in the quality of life in cities. Plus, with the rise of population in urban centers, we imagine much more exciting work will be in store.

How much do you enjoy your job? Is this a good career to get into?

I have always believed in the beauty and power of nature, and also always believed that making cities better places to live will preserve more pristine natural areas for all of the critters and creatures that we're crowding out. So I love landscape architecture and my job. No day is the same, no project is the same. Deadlines mean long weeks, oftentimes away from home. So if you like regularity, this work may not suit you! But seeing a family relaxing in a space we designed? That makes it all worth it.

Landscape architecture is a generalist profession, so whether you are skilled at construction or have a talent for drawing, you can explore your talents. Follow your strengths, but don't use them as a crutch. Always expand your skills into new territories and your passion will be obvious to others.

West 8 was founded in 1987. What are some of the main ways you've seen the industry change since then? Do you have any predictions on where the industry is heading?

The focus on sustainability is no longer an exception and it is nice to see that social responsibility and ecological stewardship are now commonplace in the industry. As a discipline, landscape architecture cannot avoid responding to socio-political contexts, and this has and will continue to be a constant. The industry, I think, is also heading toward a fundamental new approach to vehicular traffic. A vital city allows cars but not at the expense of the experience for the human scale. Increased emphasis on pedestrian, cyclists, and public transport will make cities healthier and better integrated. These are the desired antagonists to the automobile.
Learn about the Landscape Architecture and GeoDesign programs we offer at PhilaU, or connect with West 8 on Facebook and LinkedIn.